Reserve the Marquee for your celebration
Celebrate your milestone or occasion with a custom marquee message on the Byrd Theatre Marquee! Whether it's a birthday, anniversary, wedding proposal, or
congratulations
, our marquee offers prominent placement and a unique photo opportunity to share with your social network and cherish for years to come. Click below to inquire about your preferred date and time.
A Marquee Message is a donation benefit at the $250 donation level to the Byrd Theatre.
Please note the following:
The Byrd Theatre marquee is NOT available for advertisements
Custom Marquee Messages are posted for a guaranteed minimum of 4 hours. Marquee messages may be changed after 4 hours.
Byrd Theatre programming messages are prioritized over custom messages (public screenings, events, etc.)
Marquee letters are ONLY capitalized
Punctuation is NOT available
Letter colors are selected at random
Marquee Lettering Specifications:
Line 1: Up to 14 total letters + spaces
Line 2: Up to 18 total letters + spaces
Line 3: Up to 18 total letters + spaces
Host a
Movie Party
and receive a $50 marquee discount, making your custom message only $200!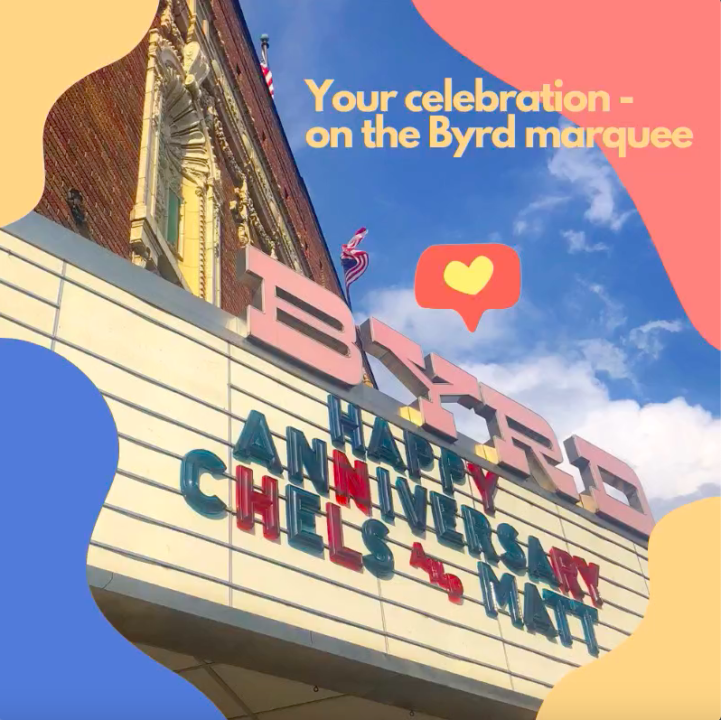 All messages are subject to approval. Messages are intended for celebrations and life events. We kindly ask for no political messages or calls to action. Thank you.
Online Donation
Help support The Byrd Theatre's commitment to expand the big screen experience, celebrate the art of cinema, and preserve Virginia's grand motion picture palace.
Get In Touch
Contact the Development Director at [email protected] for more information on gifting and partnership opportunities with The Byrd Theatre & Foundation.