A Note From Our Executive Director
On behalf of the Board of Directors and staff, I invite you to review the remarkable year of both achievement and challenge for the Byrd's fiscal year July 1, 2019 - June 30, 2020. Since my arrival in June, it's been exciting to learn of the many accomplishments the Byrd Theatre had during this last fiscal year and as a whole.
The year began with the sustained celebration of the Theatre's 90th anniversary programming and celebratory events garnering media attention and community affection.
We were pleased that we met the extraordinary $250,000 Challenge from The Mary Morton Parsons Foundation with $259,901 in new gifts for the next phase of improvements and program expansion. Programming continued to deliver educational programming, themed film series and special events. Events such as The Big LeByrdski Fest showed growth in participants and support last fall. Holidays at the Byrd were particularly festive with new snow machines and record- breaking attendance. An increase in audience and revenues continued through February.
Then COVID-19 forced the Theatre's temporary closure. We should acknowledge the Byrd's innovative and creative response to keep our patrons and our community engaged — much like it did during traumatic times of the past: the Great Depression, the influenza pandemic, World War II and others.
You'll see noted, the extensive range of virtual offerings from behind-the- scenes tours, special film series and ongoing virtual offerings for patrons. We also found ways to connect with people and when possible bring them back into the theatre safely with private movie parties, marquee messages and a movie lovers' club. We conducted a major consumer research project to learn about our community and patrons. This work will feed into updated marketing and branding work in the coming year. We also conducted market research to gain perspective and interest on comfort levels to reenter the theatre and what factors would be important. We've used this insight to guide our work, such as finding cleaners that kill COVID, updating and cleaning our HVAC system, and creating opportunities for small numbers of people to come enjoy the theatre in socially distanced ways and more.
I am pleased to announce our first public screening is scheduled for November 30 with a maximum audience of 50 people. This first screening sold out in less than 24 hours so we are adding more dates of your favorite Holidays at the Byrd classics. As a non-profit, with your continued financial support we look forward to the time when we can open our doors. I thank you and the entire community for your passion, for your support and love of the Byrd!
Stacy Shaw
Executive Director 
Click or tap each photo below to view its full size and caption.
$250,000 Challenge Grant Met
A special achievement of the 90th anniversary year was surpassing The Mary Morton Parsons Foundation's $250,000 Challenge to the community. The Challenge was to raise an additional $250,000 from new donors or increase levels of support from loyal donors by December 2019. The public responded with $259,901 raised! The final push was made during December Holidays at the Byrd, the culmination of the 90th anniversary celebration.
More than 460 donors rallied to the Challenge. New donors provided $224,385 or 86% of the total raised. Increased gifts from past donors totaled $35,516.
Matching Gifts came in from a variety of sources: major donors in the community, Byrd Theatre patrons, businesses, civic organizations and other private foundations. The grant and matching funds are supporting a range of needs: Phase Two restoration, further improvements for patrons and program expansion. An initial Challenge from the Parsons Foundation was awarded in 2013 to help establish an infrastructure for the operation and launch Phase One preservation and improvement projects.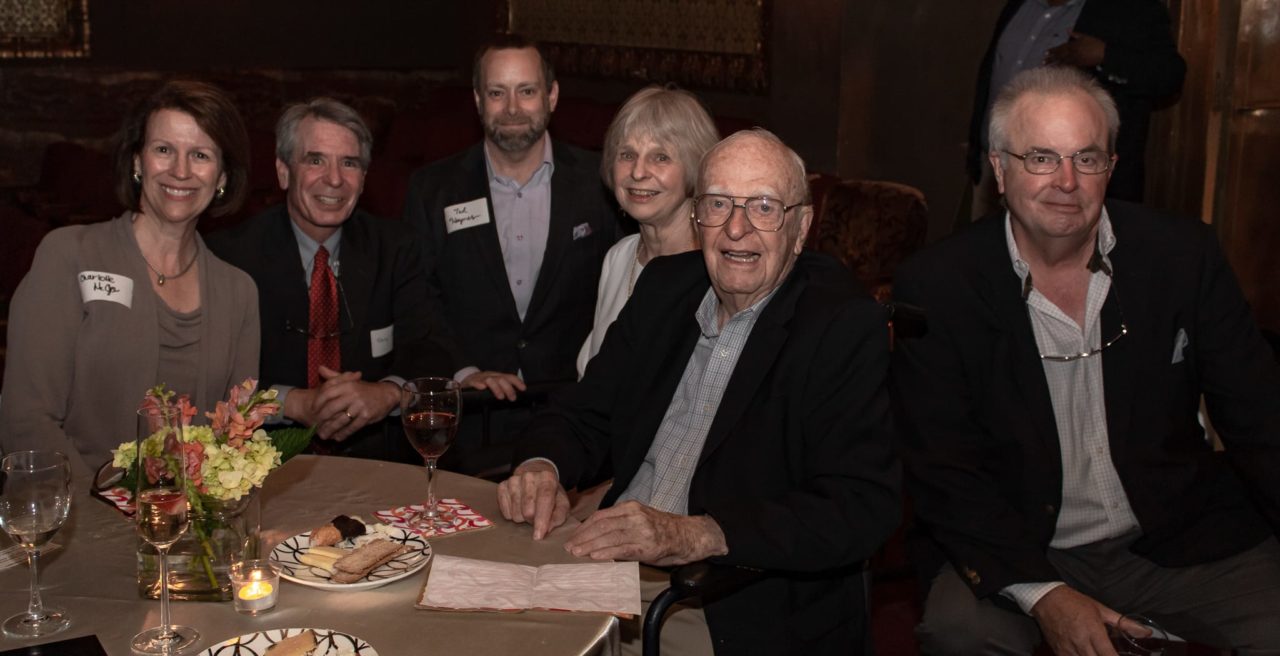 Celebrating the dedication of The Reinhart Auditorium, from left to right: Board President Ted Haynes, Bud's daughter Cynthia Richards, Bud Reinhart and Bud's son William Reinhart.
Tribute to Myron H. Reinhart
The Byrd Theatre Foundation community lost an extraordinary patron and friend – Myron (Bud) H. Reinhart, who passed away September 3, 2020. A constant advocate and donor to the Byrd, Bud committed a gift of $500,000 in 2018, the largest gift in the Theatre's history. The gift had a two-fold impact – it greatly reduced the Theatre's mortgage and enabled refinancing; and it created a reserve fund to support positive change and program growth – key goals in the organization's Strategic Plan.
In tribute, the Board of Directors named the auditorium The Myron H. Reinhart Auditorium – a fitting legacy. His gentle, constant advocacy of Richmond's human service organizations, and the arts will have lasting, positive impact on his beloved Richmond community.
A native of St. Louis, Bud was a chemical engineer and moved with his family to Richmond in 1960 to work for E.R. Carpenter Company, the world's largest manufacturer of comfort cushioning products for furniture, bedding and carpeting. He rose steadily to become President. We commemorate him here and offer our collective condolences to his son, William L. Reinhart of Goochland, Va.; his daughter, Cynthia R. Richards, of New York City; and his grandson, Christopher R. Richards of Brooklyn, NY.
FY 2019-2020: By the Numbers
The Byrd Theatre Foundation Financial Overview for July 2019 through June 2020
Income
Earned Income ($175,162.31) • Contributed Income ($216,902.82) *CARES Act Funding - PPP Grant ($51,246.00) *CARES Act Funding - EIDL Funding ($117,600.00)
Total Income ($560,911.13)
*Net profit due to contributions and CARES funding.
Expenses
Payroll ($101,389.24) • Mortgage ($54,562.56) • Staff Recruitment ($55.00) • Office Supplies ($555.13) • Development & Communications ($53,014.63) • Building & Theatre Operations ($125,964.38) • Studio Fees & Concessions ($65,209.50) • Sales, Meals & Admission Tax ($8,340.28) • Credit Card Charges ($6,927.60) • Printing ($5,101.10) • Special Events & Marketing ($75,703.67)
Total Expense $496,823.09
To expand the big screen experience, celebrate the art of cinema, and preserve Virginia's grand motion picture palace.
To elevate the Byrd's landmark position among American theaters as a center for film that continues to provide the broadest possible public access to exceptional cinematic experiences.
Board of Directors—Fiscal Year 2019-2020
Officers
Ted Haynes, President • Bill Gray, First Vice President • Martin Davenport, Second Vice President • Susan Reed, Secretary • Ben Cronly, Treasurer • Gibson Worsham, Immediate Past President
Directors
Andrew Aquino • Felicity Blundon • Richard Cross • Sharon Kelley • Nancy News • Beth Schulhof • Steph Shaw • John Spacek • Mary Ellen Stumpf • Steven Taylor • Bob Ulrich • Michael Westfall • Nelson Williams