Letter From the President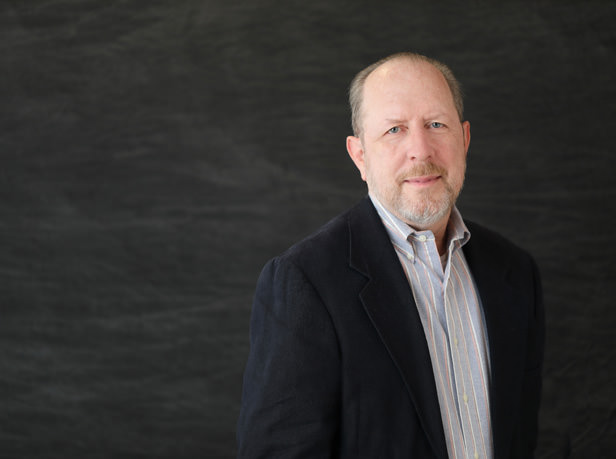 The vision to restore and establish the Byrd Theatre as the premier community supported film center for Central Virginia is laid out in six key pillars of the Strategic Plan:
Organizational Stability
Defining the Byrd Experience
Restoration and Renovation of the Theatre
Programming and Partnership
Growing the Byrd Community
Creating a Center for Film and Film Literacy
Dear Friends,
If time travel was possible outside of the movies, and we could bring the Richmonders who watched the first "talkies" to the present-day Byrd Theatre, I'm sure they would be thrilled to discover that the Byrd is stronger than ever — ready for another 90 years.
The Byrd is beloved in a way that outshines our great programing, our tasty concessions, and our amazing decorated interior. It is a community, and it encloses the collective memories of nine decades of shared experiences, with the promise of many more. I would like to thank all of you who supported the Byrd Theatre Foundation in 2017. The enhancements to our programming and facilities are only possible with your contributions. You are the true superheroes of the Byrd Theatre!
Even if you are a regular member of our audience, I think you'll be amazed at everything that takes place in our beautiful theater. We entertain with award-winning second-run and classic movies, organ performances, curated special programs, and family films on weekend mornings. We pair films with discussions that inform and engage our audiences — sharing insights on a range of topics and social issues. We partner with, and serve, our community — hosting film festivals, concerts, tributes, celebrations, and, every now and then, a marriage proposal.
We want everyone to enjoy the Byrd! I am proud to say that the Byrd Theatre is accessible to people with disabilities for the first time since opening in 1928. We've installed a wheelchair accessible seating area and an ADA restroom off the lobby. These are an important step in making the Byrd welcoming to all. 2017 was a significant year at the Byrd as we began replacing seats at the theatre – a highly anticipated event. Audiences are enjoying the more comfortable seats in the center section on the main floor, and in 2018, we will continue raising funds for the two side sections. Improvements were also made to the men's room on the first floor with new sinks and new wall and floor tiles.
In addition to more seats, future restoration plans include renovations to the women's room on the first floor, improvements to the concession area, the addition of hearing and visual assistive technology, and restoration of the loge or front of the balcony. We will be working with Martinez and Johnson, a leading architectural firm that focuses on historic theater restoration.
Volunteers are essential to improving the Byrd experience for our audiences. Last year, they contributed to a total of 10,500 volunteer hours spent on restoring, improving, and promoting the Byrd. We rely on the commitment of our volunteer board and committee members as well as students from James River High School who welcome people to the Byrd on Saturday mornings, handing out program flyers and serving coffee.
Our progress would not be possible without the support of our generous audiences, donors, and volunteers, and our dedicated staff and board members. We are grateful for your contributions to Virginia's Grand Motion Picture Palace. Thank you, again, for being a part of the growing Byrd community.
Sincerely,

Gibson Worsham
President of the Board
Byrd Theatre Foundation
New seats for the first time since the theatre opened in 1928!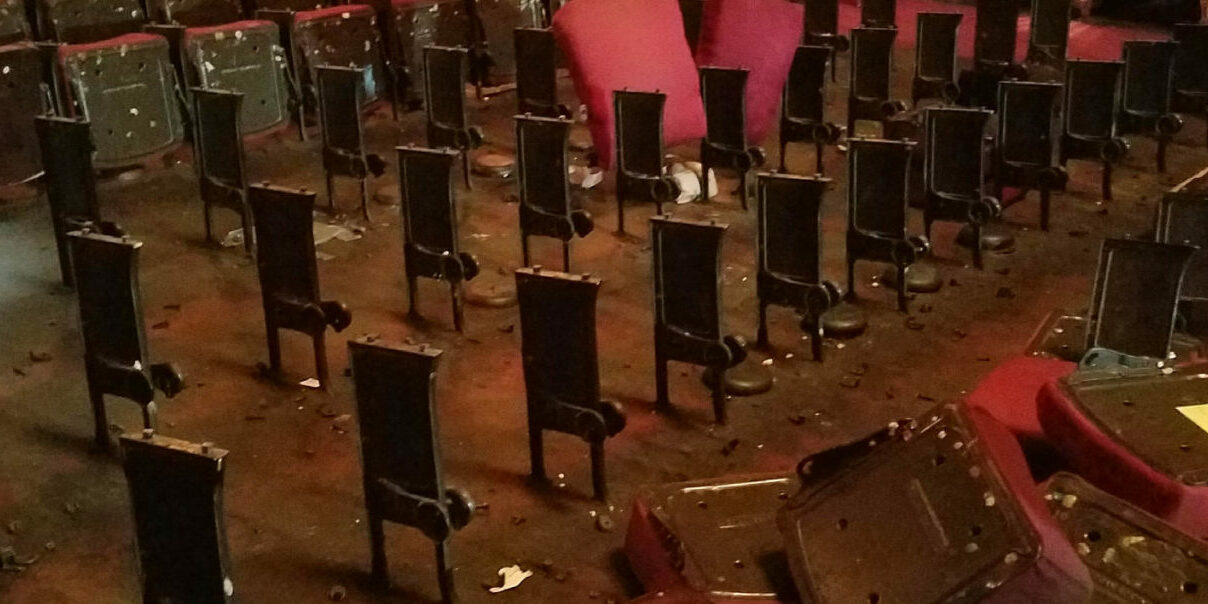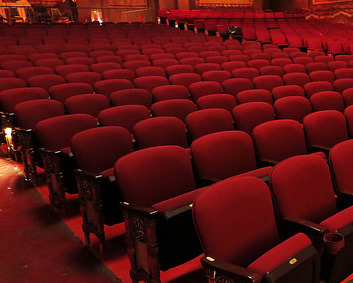 First step was removal of the original seats (above). Mushroom vents under the seats had to be relocated because the space between rows was increased, leave the vents exposed. The new seats (below right) were installed in October. The end pieces (below left) were restored and repainted to their original colors.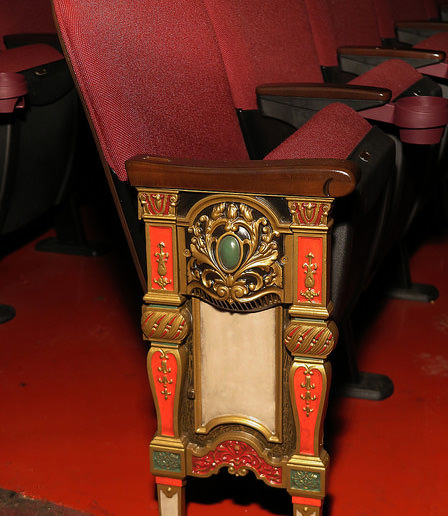 After 90 years, seats have been replaced!
The Byrd Theatre Foundation was thrilled to give audiences the one thing they valued most: new seats. The center section of seats on the main floor were in place last October, thanks to our supportive community of donors. The process took about five months in part due to vent and flooring work. The new seats are wider and the rows are farther apart, giving everyone a little more legroom. The seat end caps (shown above left) were restored to their original paint colors. Additionally, a wheelchair accessible seating section was created at the back of the auditorium, allowing the Byrd to welcome people with physical disabilities for the first time in its history. The Foundation is proud of this milestone and excited to continue the restoration with the installation of new seats in the side sections next year.
Name a Seat at the Byrd
The Byrd held a campaign to sponsor a new seat with a plaque that honors or memorializes family or friends, a favorite movie or Byrd experience. This campaign is currently closed as the plaques are being placed on seats.
We plan to start a new Name a Seat campaign when work on the next phase of seat replacements begin.
Improving facilities and making the Byrd welcoming to all.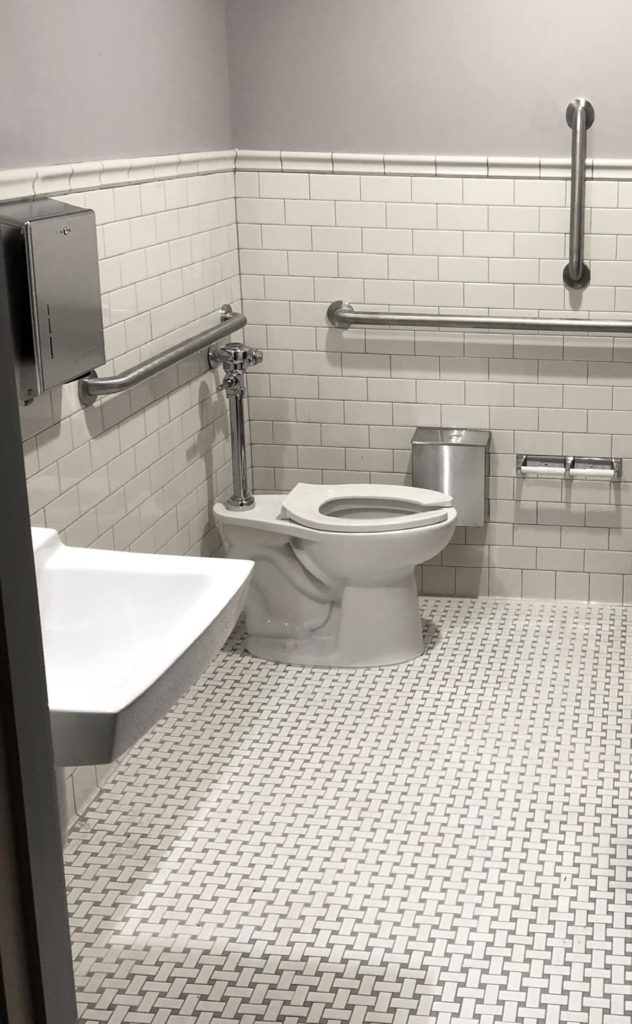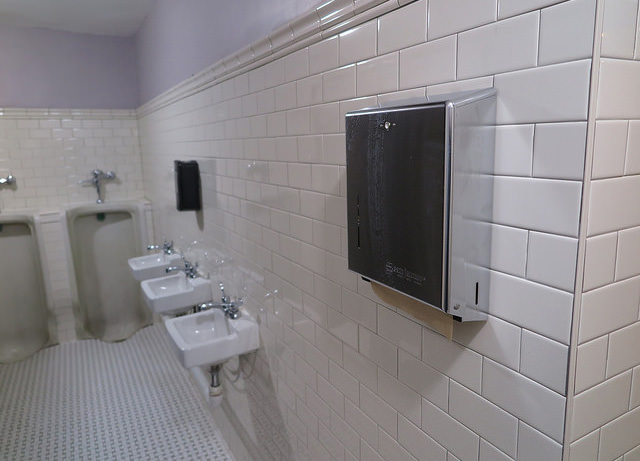 Top photograph: The new ADA family restroom on the main floor off the lobby.
Above: New sinks and new floor and wall tiles were installed in the men's room on the main floor.
Below: The main floor men's room before the renovations.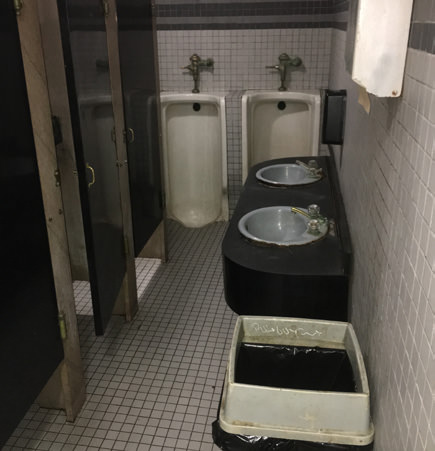 Restoration Master Plan
PHASE I - COMPLETE
Replacement of the roof
Replacement of the theater's heating and cooling system
Installation of a digital server to add digital as well as traditional films
Installation of a new state-of-the-art, 4K projector
Ongoing maintenance and repairs on the Mighty Wurlitzer Organ
Repair and restoration of the theatre's historic plasterwork
Installation of a point-of-sale system at the theater
Restoration of the theatre's center section of seats in the main auditorium
Creation of a wheelchair accessible seating area in the main auditorium
Construction of an ADA family restroom on the first floor of the theatre
PHASE II
ADA Hearing Assistance, Descriptive Audio & Closed Captioning Renovation of the lobby level women's toilet room with possible ADA stall
Concession Stand improvements with possible beer service
Study of "multi-purpose" room on Mezzanine Level/Upper Foyer
Main level house left and right seating replacement with existing standards
Main level house left and right repair and rehabilitation of concrete floor
Main level house left and right relocation of HVAC mushroom devices
Carpet replacement house far left and far right
Study of Balcony Loge seating replacement and configuration for VIP table service for possible inclusion
Restoration of the harp
Stagehouse & Lighting System Improvements
Mechanical Improvements
Electrical Improvements
Replace fire alarm system
New house PA system
Exterior Repair Improvements
Expansion of Facilities for Growth Now Under Study:
Additional screens
Office space
Storage
Elevator
%
due to the programming expansion of classic film series
patrons visited the theater in 2017
volunteer hours spent working with the Foundation to deliver the Byrd experience
community partners worked with the theatre to create valuable public events in 2017
$
represents the Byrd Theatre's economic impact on the Richmond and Tri-Cities Region, based on findings from the Arts & Economic Prosperity 5 impact study conducted by American for the Arts
Thank you to our 2017 Supporters
The Foundation is grateful for the support so many individuals and organization in 2016. We regret any unintentional error or omissions from this list.
BALCONY SOCIETY $500+
Anonymous
Brian Baird and Katherine Laybourn
Brett Carreras
Center of the Universe Brewing Company
Citizen Burger
Sallie and Richard Cross
JoAnne Draucker and Jim Thompson
Durham Foundation
Ted and Jean Haynes
George and Joan Maughan
Owens & Minor
The Reinhart Foundation
Marian Schutrumpf
Jim Shew and Daniela Wyatt-Shew
Mary Ellen Stumpf
Thompson McMullan
Bob and Holly Ulrich Fund of The Community Foundation Serving Richmond and Central Virginia
Rick and Lane Witthoefft
PROMENADE $250-$499
Ms. Page W. Bauder—In Memory of my family and friends who shared evenings at the Byrd
Mr. and Mrs. Orran Lee Brown John and Sarah Charlet
Fred Danz
Mr. Charles Davidson
Marie de Percin
Mark and Joni Dray
Mr. and Mrs. James Forsythe
Chris and Cheryl Guedri
Michael Kennedy—In Honor of Todd Schall-Vess
Loughridge & Company, LLC—In Honor of Melissa Loughridge Savenko
Pacific 2.1 Entertainment Group, Inc.
Margaret Pfohl
Robert and Mary Pierce
Rick Pleasants—In Memory of George R. Stitzer
Janet Lundy and Mark Ryan
Jed and Janice Thomas
Dr. and Mrs. C. Kent Titus
VA Comicon
Dr. John Warkenton
Elise Wickham
Mr. and Mrs. G. Nelson Williams
John and Bucci Zeugner
PATRONS $100-$249
Anonymous
Ms. Janet L. Adams
The Honorable Parker Agelasto, Richmond City Council, 5th District
Charles and Sally Ayers
Wesley Ball
Robert and Gayle Barber
Scott and Nancy Belleman
Glen Besa
Mr. and Mrs. Thomas Bliley
Mr. J. Richard Bragg
Ms. Doris Brody
Ms. Louise G. Coldwell
Dr. and Mrs. Robert Cone
Mayme Donohue
Tom and Lyn Emory
Tomeco Fields
Jerry and Nancy Finch
Ms. Dianna Gabay-Selby
J. Todd and Tina Graham
Mary Lee Haase
Mrs. Phoebe Hall
Terrell and Elliott Harrigan
Beth and Lowrey Holthaus Gregory Johnson
Erik Jones
Sharon Kelley
Richard and Nancy Krider
Mr. Bart Lacks
John and Vickie Levy
Dr. and Mrs. Marci Linas
Matthew Logan and Margaret Reed—In Honor of Margaret Reed
Catherine Lukaszewicz
The Lumpkin Family Foundation
Jane Martin
Joseph McVey
Robert J. Meckes
Mr. W.F. Michie III
Mr. and Mrs. Ken Morgan
Mr. William Motley, Jr.
Ms. Seung-Hee Nah
Missy Neff
North Park Band Booster Club
Ms. Nan Ottenritter
Mr. Charles Pearman—In Memory Of Charles C. Pearman, Jr.
Phil Pollack
Monroe Porter
Dastgir and Mary Jo Qureshi
Michael Raff
Linda Lee Redmond, PhD
Paula Rhoads
Catherine Rolfe
Mary Sadler
Kay Schlembach
James and Harriet Schnell
Dorothy Schoeneman
Mindi Seidel—In Memory of my Parents and Grandparents
Stephanie Shaw
Robert Sprague
Paul and Nancy Springman
Mr. and Mrs. Samuel Straus
Alan Stringer
Karen and Jerry Swerling
Margaret Vadas
Patricia Vastano
Mr. Ben Watson III
Merideth and Ley Watson—In Memory of Rev. M. Johns Gray
Mary Kay Williams
Ms. Jennifer Wright
FRIENDS UP TO $99
Anonymous
Ms. Jacquelyn Brooks
Guy and Elizabeth Adamson
Liz Aucello
Scott and Sandi Bergman
Glen Besa
Ms. Eugenia Borum
John Brainard
Eric Brakman
Mrs. Carlisle Branch—In Memory of Ann Nicholson
Bennie Breece—In Honor of Mr. and Mrs. Richard Cross
George Ann and Stuart Broth
Wiliam Burch
Donald O. Spec Campen, Jr.
Courtenay Cann
Ms. Martha Chick
Beverly Chinnis
Linda Coile
Frona and Alan Colker
Ms. Harriett Condrey
Deborah and Michael Cooke
Mr. Carl Craig
Mr. and Mrs. Christopher Curley
William Curry
Emily Dandridge
Guylaine DesRosier and Barry Long
Crystal Dickinson
Patricia Doniger
Chris Eklund
David Esposito
Clark Evans
Debbie and Miles Fagan
John and Teresa Festa
Mr. and Mrs. George Flowers III
Linda Gardner
Lizette Gecel
Karen Gerard
Thomas Goode
Drs. Jon and Linda Halstead
Merelyn Hammett
Daniel Harman—In Honor of Jesus Christ
Ms. Lisa Hearl—In Memory of Bootsie Donati
David and Cadence Heden—In Honor of Kathryn Stephens
Victoria Heller—In Memory of Ann Nicholson Adamson
Sharon Hill
Diana Hollett
Mr. and Mrs. Christopher Howell—In Memory of Ann Nicholson Adamson
Roberta Jones
Mark and Erin Kenny
Tracy Labin
Robert Lamb
Mr. and Mrs. H. Pettus LeCompte
Richard Liles—In Memory of Ann Nicholson
Mr. and Mrs. Thomas Mackell
Betty Mann—In Memory of Dixie Glass Mertens
Maureen Miller
J. Grant Mizell III
Mr. and Mrs. John Mizell, Jr.—In Honor of Grant and April Mizell
Kevin and Jeanine Mooren
Deane and Frank Mountcastle
Sean Murray
George and Nilsa Nan
Felipe Nascimento
John Nelson
Carol and Ron New
Donna and Jeffrey Patrick
Trish Pettus
Mr. and Mrs. Ralph Puccinelli
Deanne Ralston and Andre Bailey
John Ritz
Robin Seagraves
Maria and John Shugars
L.E. Singletary
Ronald Skinner
Mr. and Mrs. Scott Slagley
Dana Smiddy
Chrishawn Spackman
Robert Spiers, Jr.
Dick and Susan Stephens—In Memory of Kathryn Alice Stephens
Ms. Elizabeth Stevenson
Reeve Stimpson
Karen and Jerry Swerling
Nyssa Thongthai—In Honor of Haggis the Cat
Mr. & Mrs. Robert Turnbull
Ms. Katy Vess—In Memory of David "Bear" Vess
Carla and Jack Vipperman—In memory of Margaret Lacy
Ms. Kay Wason
John Watt
Lisa Webster—In memory of Shirley Webster
Erik and Patricia Weems Sue Welsh
G. Scott and Leigh H. White
Elise Wickham—In Memory of Ann Nicholson Adamson
Charles Wilson—In Honor Of Mike Richardson
Benjamin Wood
Wendy Wurlitzer and Bruce Evans—In Memory of Prescott Wurlitzer
Joe Yates
CORPORATE MATCHING GRANTS
Bank of America Charitable Foundation Matching Gifts
Dominion Foundation Matching Grant Program
The Benevity Community Impact Fund
The Cameron Foundation
Wells Fargo Matching Gifts Program
Chad Anderson
Mitchell Anscher
Darek Atkinson
Brian Baird and Katherine Laybourn
Bellamah Family Gift Fund
Scott and Nancy Belleman
Paul Betz
The Bob Foundation
Nancy Booker
Mr. J. Richard Bragg
Amanda Brennan
Cynthia and Gary Brittain
Bree Brostko
James Browne
Lloyd Bryant
Kenneth Byrd
Donald O. Spec Campen, Jr.
Keith and Pam Carney
Carol Caudill
Carlisle Childress
Sandra H. Christian
Gail Christie
M. Alex Meredith and H. Ruth Clemo Meredith
Andrea Coley
Mary L. Colfer
Amy Comstock
Joel Coulter
Marc Cram
Susan and Cecil Creasey
Beau Cribbs
Mary Dadisman
Mr. Martin Davenport
Mr. Brian Davis
Mary Jo Deeb
Morgan Dehaven
Joel Dexter
Clinton Diehl
Tess Dixon
Susan Doyle
Dunbar Milby Williams Pittman & Vaughan
Jacob Dyer
Norman Eddleton
John Evans
Welby Fairlie
Catherine Flynn
Mary Foust
Shelton Fraher
Devon Gallagher
Karen Gerard
Joseph and Emily Gianfortoni
Kelly Gottschalk
Robert and Joanne Gulledge
Warren Hall
Yvette Hayes
Jason Hilton
Christina Hirt
Ann Neil Holden
Chris Houlihan
Katherine Hubbard
Cecilia Hull
Ame Hull
Mid Atlantic Studio Mechanics and Broadcast Technicians, IATSE Local 487
Cameron Jackson
Dane Jackson
Robert Jones
Charles and JoLee Kenney
Frances Kimbrough
Dee Knaggs
Jonathan Knopf
Charles Kramer
Matthew Lessick
Wilson Little
Loughridge & Company, LLC
Michele Mandell
Jared Marek
Beth Marschak
Cheryl Marschak
Alex and Aimee Martin
Joe and Bobby May
Tracy Mazzoni
James McConville
Anne McCracken
Amanda Meadows
Ms. Ethel Melton
David Mills and Jennifer McClellan
Katherine Mitchell
Ernest and Betty Mooney
Val Murphey
Lisa Nelson
Rebecca Nielsen
Ashley Nollen
Bethany Novak
George Nyfeler
Kelly O`Keefe
Thiago Oliveira
John Oliver
Jennifer Paules
Donna Pendarvis
Keithley Pierce
Rick Pleasants
Monroe Porter
Jordan Pridgen
William Reinhart
Randy Renner
Richard S. Reynolds Foundation
Jared Ringstaff
Beth Robbins
Susan Robertson
Dana Gregory Rose
John Sabalis
William Sahnow
Jeffrey Sessa
Roger and Christina Shawn Evan Sherwood
Thomas and Linda Singleton Driscoll
Clint Smith
Trevor Smithson
Rachel Sorey
John Spacek and Lisa Harkey
Mary Ellen Stumpf
Aaron Sullivan
Marianne Svoboda
Mary-Austin Teter
Nicholas Thompson
Alex Thomson
Lara Todd
Derek Tolagian
Clare Trow
Nicholas Vanias
Zinda Vareed
Katy Vess
Carla and Jack Vipperman
Geoffrey Waugh
Sue Welch
Chris Welch
Sarah Whilden
Rick and Lane Witthoefft
Felicia Woodruff
Janet Worsham
Christina Wright
Amy Yarcich
Joe Yates
Meredith Yoder
Joan and Steve Clement
Coille Limited Partnership, LP
Eleanor Davenport
Durham Foundation
Robert and Patricia Kyle
The Greenway Pendleton Fund of The Community Foundation Serving Richmond and Central Virginia
Custis Westham Fund of The Community Foundation Serving Richmond and Central Virginia
Mr. and Mrs. Scott Moncure
The Reinhart Foundation
The Pauley Family Foundation
The Robert Leroy Atwell and Lucy Williams Atwell Foundation
Barbara and James E. Ukrop Fund of The Community Foundation Serving Richmond and Central Virginia
The Wilbur Moreland Havens Charitable Foundation
Joanne Verdi
View the Full 2018 Annual Report
There's a lot more to our 2018 Annual Report.